VIA FERRATA
ARDECHE – LOZERE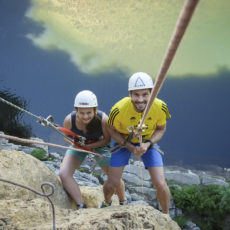 Casteljau Via Corda 
Not far from the village of Les Vans in Casteljau, Ardèche, on the limestone cliffs of the Bois de Païolive overlooking the Chassezac river, this via-corda route offers many surprises in the wonderful setting of the Chassezac gorges. From 8 years old.
From 35€/pers.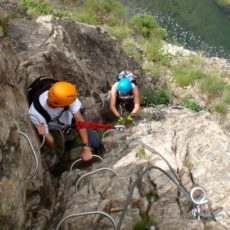 Pont du Diable Via Ferrata
In Thueyts, on the cliffs of an ancient volcanic basin overlooking the Ardeche River, the Pont du Diable Via-Ferrata is an accessible path offering an unusual point of view. This route, close to Aubenas or Largentière, is punctuated by ladders, monkey bridges, footbridges and a large zip-line of 90 meters,...
From 40€/pers.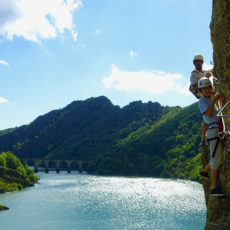 Villefort Lake's Via Ferrata
Located on the granite cliffs overlooking Villefort Lake, on the border of Ardèche and Lozère, the Villefort Lake's Via-Ferrata is undoubtedly the most varied and playful course of the region. Facing Castanet castel, this Via-Ferrata runs along the cliffs on either side of a small canyon. During this half-day, you...
From 40€/pers.